► Chapter One: Pomeranian in Focus
► Chapter Two: Pomeranian Requirements
► Chapter Three: Tips in Buying Pomeranian Dogs
► Chapter Four: Caring Guidelines for Pomeranian Dogs
► Chapter Five: Nutritional Needs of Pomeranian Dogs
► Chapter Six: Maintenance for Pomeranian Dogs
► Chapter Seven: Showing Your Pomeranian
► Chapter Eight: Breeding Your Pomeranian Dogs
► Chapter Nine: Keeping Your Dog Healthy
Chapter Two: Pomeranian Requirements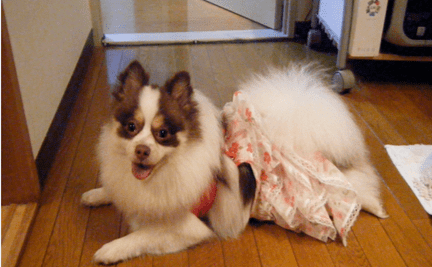 Are you now thinking of getting a Pomeranian dog? Alright! After knowing what they are, their behaviors, and how to deal with them, it's time to give you practical tips on what you need to know before buying one.
In this chapter, you will get a whole lot of information on its pros and cons, its average associated costs as well as the licensing you need so that you will be well on your way to becoming a legitimate Pomeranian pet owner – should you decide to be one! It's up to you! Read on!
Licensing requirements is very important to acquire if you want to own a Pomeranian. In order to apply for a dog license, you need to provide a certificate that shows that your dog is up to date on its rabies vaccinations. Pomeranian dogs that are over four months and older are required to be licensed. If ever you transfer from one place to another, you may need to apply for a new license.
In this section, frequently asked questions regarding Poms' licensing will be discussed so that you will have an idea on the procedures that need to take place before adopting a Pom.
United States Licensing for Dogs
Most major United States' cities require that all dog owners license their dogs. They also require that the dog owners should make sure that the license or tag is always attached to their dog's collars whenever they are in public. There may be fines for dog owners for violating this law.
How much does a dog license cost?
A dog license costs $20 per year for neutered or spayed dogs while for breeds that are not yet spayed or neutered will cost about $34. Dog licenses may be renewed or purchased for 1 to 5 years. All of these fees are non-refundable.
What are the benefits of getting your dog licensed?
Licensing will definitely help you to be reunited with
your dog in case they are lost.
Your dog can run off-leash in specific cities park dog
runs with proof of current dog license and rabies
vaccination.
Licensing can also help reunite the owner and its dog in
case of separation during an emergency
Information about licensed dogs facilitates medical follow-up for individuals that are potentially exposed to infected dogs especially important during rabies breakouts.
The fees of licensing your dogs can provide funding for the city's animal shelter system and free/low-cost neuter and spay programs for low-income dog and cat owners.
When will I receive my dog's license?
You will receive your dog license approximately about two to four weeks after payment is processed. You can also check your application status three weeks after payment is processed by calling 311.
How to renew a dog's license?
You will surely see a notice for renewal in the mail which you can return with payment. You can also do that online if you have an existing license.
How do I replace a lost certificate or license tag?
There is a $1 fee if you want to replace a lost tag. You can also do the replacement process online, or send a written request, though there are no extra charges for replacing a dog license certificate.
Is it important to update my dog's status or my contact information?
It is very vital to keep your contact information updated, and to notify the Health Department if your dog dies or if it changes the owner.
Licensing for Dogs in United Kingdom
In UK, licensing requirements for pets are a little different than they are in the United States. In the United Kingdom, it is mandatory for dog owners to license their dogs. The main difference, however, is that British dog owners do not need to vaccinate their dogs against rabies because the disease has been eradicated. Dog licenses are renewed annually and they are not a significant expense.
In some cases you will need to get a special permit if you plan to travel with your dog into or out of the country.
Can a Pomeranian Be Left Alone?
A lot of Pomeranian owners cannot be home 24/7, nor can they take their dog with them wherever they go.
When a Pomeranian is left alone by himself, expect your dog to feel isolated. He will undergo extreme sadness, so heavy that the dog suffers intense depression and episodes of anxiety. This may affect the behavior of the dog long after an owner arrives back home.
If you have other responsibilities, whether you go to school or work that take you away from the house, a dog of 8 weeks and older will be able to be home alone for
8 to 9 hours given that he has the right set-up for comfort, safety and to meet all of his needs.
Want to read the entire thing?