► Chapter One: Biological Information
► Chapter Two: Miniature Pinscher as Pets
► Chapter Three: Purchasing and Selecting a Healthy Breed
► Chapter Four: Habitat Requirements for Miniature Pinscher
► Chapter Five: Nutrition and Feeding
► Chapter Six: Grooming and Training Your Miniature Pinscher
► Chapter Seven: Showing Your Miniature Pinscher
► Chapter Eight: Breeding Your Miniature Pinscher
► Chapter Nine: Common Diseases and Health Requirements
► Chapter Ten: Care Sheet and Summary
Chapter Three: Purchasing and Selecting a Healthy Breed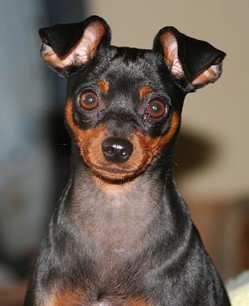 In this chapter you will be provided with the criteria on selecting a healthy Min Pin breed as well as a reputable and trustworthy breeder. You will also learn where to purchase a pinscher breed, and you can also check out the links provided in this chapter if you wanted to purchase a dog online or if you need information on where to visit a particular dog breeder. It's essential that before you purchase any dog for this matter, you should first consider on who takes care of them and how they are being taken care of, especially if they're still puppies. If you find a reputable breeder you can be sure to acquire a good dog breed.
How to Purchase a Miniature Pinscher Breed from Reputable Breeders
There are basically four ways where you can acquire or purchase a puppy:
Private/Responsible Breeder
Rescue/Adoption
Backyard Breeder
Pet Store
Pet Store
It's highly recommended that you stay away from pet stores. Most dog owners suggest not to purchase a puppy from your local pet shop because the majority of their available puppies came from puppy mills, and because good breeders do not sell to pet stores.
Puppy mill is a place where puppies or dogs are kept in solely for breeding purposes. It does not provide an adequate living environment, and dogs are mostly under terrible conditions. Puppies bred from puppy mills have lots of illnesses because of the poor environment. These puppies are then purchased by pet stores and sold to people. What most people don't know is where exactly this dogs come from, and how are they raised since birth. Many dog organizations and breeders advise the public or potential dog keepers to stop purchasing from pet stores so that these pet stores will stop buying from puppy mills, and hopefully force them to completely stop breeding puppies and raise them in horrible conditions.
Rescue or Adoption
Rescue is a noble thing to do but it may not be for everybody. Of course, if you are the kind of person who loves to rescue animals from shelter and raise them properly that's a great thing to do, but you have to be quite an expert or you should have previous experience in purchasing from rescue centers especially when it comes to selecting a healthy breed. You should also be aware of additional adoption fees as well as proper documents before you can officially claim your chosen dog.
The major advantage is that these dogs may already be pre-prepped already by its previous owners. Sometimes they already received all the vaccines they need, may have been spayed/neuter already, may have undergone micro-chipping procedure, and sometimes already trained. However, you should still be careful when selecting from rescues especially in terms of the dog's health condition and/or behavior.
Backyard Breeders
Backyard breeders are people who breeds two dogs because they have purebred dogs or sometimes not purebred dogs, they breed them for the sole purpose of selling them or they just want to have a litter.
Good breeders show their dogs or joins dog competitions
It doesn't mean though that they need to join on a regular basis because there are a lot of hobby breeders out there that shows there dog occasionally because showing is quite expensive. Nevertheless, they should've at least showed their dogs once or twice. The main reason for this is because it evaluates a breeder's breeding stock, and it makes them conform to the breed standard.
If the breeder has a showing experience it's quite a proof that he/she is following the official breed standard, trains the dogs, maintain their health conditions, and also provide them with the care they need to have a sound temperament and good attitude towards people. If a breeder is showing their dogs, it also means that they are breeding a high – standard quality of dogs. Bad breeders, on the other hand, don't show their dogs because they pretty much don't care at all.
Good breeders are valuable source of information
You're not looking for a smart breeder or someone who has a degree relating to animal care, but as a reputable breeder, they should know everything there is to know about their particular breed. It's highly recommended that before you purchase anything, you should be able to interview them, and make a list of all the questions you think is relevant and will be helpful to you once you acquired a puppy.
Good breeders are more than welcome to answer all of your questions, and are also open to discussing things thoroughly. You can ask about the dog's pedigree, their history, their health, how much to feed a puppy, the do's and don'ts etc. Good breeders should also be there for the lifetime of your dogs, and they should be able to attend to any questions or concerns as well as show some interest on how their dog is doing after you have made the purchase. Make sure to establish a good relationship with your chosen breeder because he/she will be essential in raising healthy pups/dogs. Bad breeders may not be open to answer questions, and even if they do, they may not answer it in an expert manner.
Good breeders know when to let go of their new puppies
A good breeder knows the proper age of when they can let their puppies go to other homes. It's a major sign if you're dealing with a good breeder or a bad breeder. Any good breeder knows that puppies should be kept until 12 weeks old, bad breeders will sell puppies under 12 weeks old. Bad breeders are only after the money, they are not concern with their dogs.
Good breeders will provide good references
You can tell if the breeder is reputable if he/she gives good references from their past puppy owners or customers they'll be willing to give it to you as compared to bad breeders who will not because you may discover how irresponsible they are based from their previous clients.
Good breeders know everything about their dog's ancestry
When you ask them regarding the puppy's ancestry, a good breeder knows things in terms of the health conditions of the puppy's parents, their size issues, the puppy's grandparents, temperament etc. Bad breeders have no idea how the puppies came about, where they come from, their background, ancestral health issues and the likes. You'll have a better chance in acquiring a healthy dog because good breeders know the health history or genetic problems that may have been passed down from one generation to another as compared to backyard breeders.
Want to read the entire thing?