► Chapter One: Dubai Overview
► Chapter Two: 10 Best Hotels in Dubai
► Chapter Three: 10 Best Restaurants and Dining Districts in Dubai
► Chapter Four: 10 Best Shopping Districts in Dubai
► Chapter Five: 10 Most Anticipated Events in Dubai
► Chapter Six: 10 Best Theme Parks in Dubai
► Chapter Seven: 10 Best Off – The Road Adventures in Dubai
► Chapter Eight: 10 Best Nightlife in Dubai
► Chapter Nine: 10 Best Off – Beaten Path in Dubai
Chapter Two: 10 Best Hotels in Dubai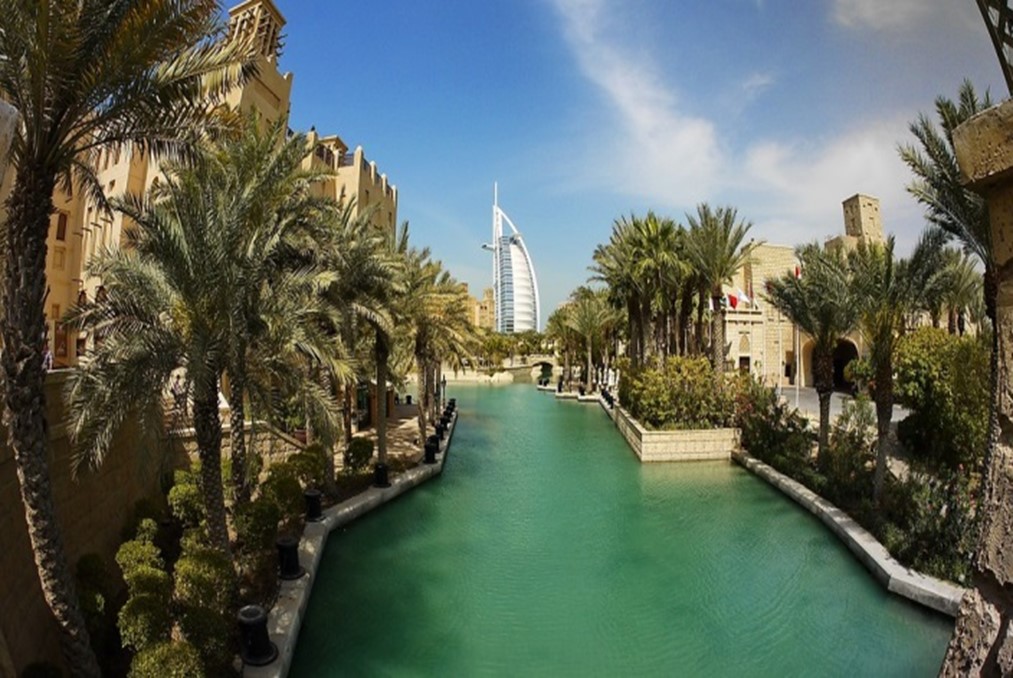 You've been good all year, worked hard, and have done all that is needful whilst "adulting." Don't you think you deserve a bit of time off and good dose of unabashed pampering? Whether you need to be on hand for an impromptu meeting, attending an event or simply doing yourself a solid and disconnecting from the humdrum of your everyday rat race, Dubai is just the place to be – given the plethora of things that are constantly unfolding, the surprises held in store for you, and secrets waiting for your discovery are aplenty and bountiful! You'll love the pleasant surprise of the many choices available to you and it'll be a little difficult to make decisions if you really didn't know where to start.
What would be the next logical thing you'd need to mind? Of course, accommodations! It would be insane to just plunk yourself at the airport as you scratch your head and ask around for recommendations. You want to make sure that you've got the 411 before you head out to the desert city where everything is just a notch above the tasteful and extravagant. Check out the 10 best hotels in Dubai below.
Situated in the middle of the world's biggest manmade archipelago is The Palm. Perhaps it is man's ongoing fascination of finding Nirvana on this Earth, or our perpetual quest trying to locate the magical, Valhalla-like Atlantis, or our simply our innate need to find a haven where our weary, hearts, minds and bodies can and will find the respite they all collective need is the reason why Atlantis at The Palms was conceptualized, built and realized. And realized our greatest imaginings of comfort and luxury indeed is what this hotel did.
Unfold the treasures of some of the most exquisitely elegant accommodations fashioned to plunge you in a world of pampered loving. Awarded by and handed over by the renowned World Travel Awards as the World's Leading Landmark Resort of 2015 comes as no surprise as the great imaginings of this hotel has only had YOU in mind when they thought up each and every square inch of their luxurious rooms. Wake to a morning and stretch those fused bones of yours on a veranda fit for a person well deserving of the ultimate eye candy man and nature has to offer. Don't fight it because even the most jaded of souls won't be able to resist the stupendous visuals of the clear azure Arabian waters, the one-of-a-kind Island landscape of the Palm (Palm Island) and the impressively magnificent Dubai skyline. 90% of the Palms rooms interconnected.
Family vacations needn't be a Griswold Family Lampoon-like-movie series of mishaps. Duck into your own little cocoon with that special one who warms not only your hand but your heart as well, and have the kids hike off to their own room tucked conveniently just next door to yours. Checking in on your teenagers will be as convenient and accessible as if you were knocking on their bedroom doors at home.
With unique, heavenly views of the majestic ocean before and beyond your eyes reach, the Palm Beach Deluxe Guest Rooms can accommodate you, the love of your life and two of your little ones. What does the Deluxe Guest Room afford you? You only get a bird's eye view of the pristine stretch of one of Dubai's most talked about beaches and the mesmerizing night time twinkling of Dubai's Skyline. An enviable, uninterrupted and breathtaking view of the Arabian Sea is what the Atlantis has in store for you once you and that special one who holds your heart captive walk into any one of these thoughtfully designed quarters. Are your children coming along for the experience? No worries. No need to think twice about where and who to leave the young ones with because the Ocean Deluxe Guest Room is big enough to house both you and two of the little ones comfortably, hands down.
Call it the perfect choice for the more demanding individual in you; the one requiring only the best of what money can afford. With the kind of luxury and ease of life the Atlantis has to offer and at your grasp, why not? Define your encounter with opulence and share this once in a lifetime experience at the Imperial Suite with some of your closest friends and family. Unlock a treasure chest of exclusive benefits that will make your stay at the Atlantis elevate a notch higher.
Be provided with service personnel the minute you step onto the hotel lobby; enjoy the ease of private check in and check out service. Work out your entire stay with the Atlantis' Imperial Club Concierge team dedicated to be your team of granters of wishes. A mile long of choice food fares and mouthwatering delectable from all over the world and a sampling of the local breakfast fare is what awaits the Imperial Club guest and their posse, at the distinguished Imperial Club Lounge. Sneak in an afternoon delight, you late-waking-bird, and sit outside the terrace of the Imperial Club Lounge for a late, late breakfast. The Atlantis obviously holds no bars and only aims to make your stay at the Atlantis one that can only be described as phenomenal.
The Executive Club Suite offers spectacular views of the Dubai skyline begins when the sun sets. There is nothing like arriving late in the afternoon only to be greeted by the twinkling lights of the city of Dubai. Mornings are just as enviably magnificent with an almost panoramic view of the seascape of the Arabian Sea. Get an unrivaled visionary spectacle of the deep, jewel-like azure waters that could help drown out the bustle that you were unbelievably subjected to not 24 hours ago.
Choose an Executive Club Suite befitting of your particular need between 101 square meters in configurations of one or two bedrooms. You can keep all this space to yourself or if travelling with your family on a vacation then this might just be the perfect sort of accommodation that will afford you and your loved ones the respite you all so badly need. Share a late night snack under the blanket of the night sky or wake up to a hearty breakfast on a full seating balcony where you can lounge on and recuperate.
Allow your thoughts to drift off as you take your time in the exquisitely fitted bathroom with a free standing oval tub, a walk-in shower area with spacious elbow room. The Serene Lounge is exactly as it boasts tranquility with the family and time away from everything else. An expansive living area is fitted with luxury bar none. Unequalled in luxury not found in many of the 5-star hotels you may have frequented, be in awe at what it truly takes to gain the 5-star rating many hotels can only hope for in their span of existence.
With two bedroom suites, an even more stunning view of the deep blue of the Arabian Sea and the Palm itself, you will understand how it rivals everything you know of opulence and privacy. Recuperate and relax in the privacy of your own balcony and enjoy the magnificent service reserved just for you. You've only heard of the luxury of Indulgence from others – now is your time to have a piece of that pie. You've earned it. You and your family deserve it, don't you think? Awaken to breath taking views, whether night or day, no matter what time of the day, allow your thoughts to melt away and let your mind run off with imaginings of magnificence and splendor.
The JW Marriott Marquis is one unique concept of a hotel where you can literally sleep amongst the clouds and open your eyes to a whole new experience not many has the luxury of having. With the top floor towering 1,164 ft. above the ground, the world's tallest hotel gives the phrase "being on cloud 9" a whole new meaning. Reflective of the majestically opulent and unapologetic city of Dubai, the JW Marriott Marquis boasts of guest rooms and suites which mirror the riches of the Land of Gold fit for your royal taste in service and luxury. Enjoy being treated like royalty the minute you step onto the premises and experience unequalled, world-class service.
Split between two identical towers, fashioned as and reminiscent of a palm tree, are 1,608 exquisite rooms designed to give you the retreat you so well deserve. A deluxe room at the JW Marriott, situated at the utmost of the towering hotel, not only affords you a spectacular view of the sea but an experience that is quite unlike any other you've experienced before. Do you like eating midnight snacks? Then their 24-hour room service will be a welcome convenience. The allure behind the JW Marriott Marquis, aside from the hotel's towering height, is how it shuns the Land of Gold's brand of extravagance in favor of elegance.
The JW Marriott Marquis Guest Room is fitted with amenities fit for you, a partner or your budding little family. With 473 spacious, square feet designed to give you the best of what can be offered. Fully air-conditioned rooms give you the comforts of ducking in out of the heat between visits around the Land of Gold, whilst still allowing floor to ceiling windows spectacles of stupendous views with that will be permanently etched into your memories for a long time to come.
Need to sneak in a bit of work? No problem. The JW Marriott has got you covered. Conveniently tucked away in a corner of the spacious living quarters of the Guest Room is a desk with an ergonomic chair and a space where you can conveniently hook up your communication devices and laptop. Pre-arrange for WWW connection and you are all set to send off that last minute document revision you owe.
You won't have to miss out on your exercise regimen with the lavish hotel's fully equipped fitness facilities. Take a few laps at the JW Marriott's outdoor pool located at the hotel's rooftop and top off your workout by ducking in the hotel sauna.
Want to read the entire thing?